We received a package in the mail Wednesday from mamaw with clothes and we thought hey, why not ship Hadley across the country?
I am so proud to say that Hadley is loving her sippy cup. She is doing so good with it. She doesn't drink much a day, probably about an ounce, but she really loves the thing. Hopefully we will be ditching bottles early. Dr. Browns are a pain in the ass to clean.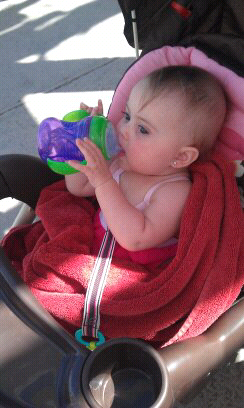 Yesterday was daddy's 23rd birthday and Hadley made him his very first birthday card. I can't believe how big those feet are! I love those precious little feet. I love my daughter more and more everyday and couldn't imagine what life would be like without her. She is so sweet and precious. It took us a long time to get this sweet and precious baby. She was a pretty difficult baby the first 4 months of life.
I love this picture. This is what my little angel looks like everytime she wakes up from a nap. She gives me the biggest smile when she sees me coming to get her up. Her hair is a mess and her clothes are hanging off her. Ha. Oh, and you can see her little toofer. She is getting another one right beside that one. It is slowly coming through,and she isn't as cranky this time around. Not yet anyways.
We have an appointment to take Hadley to the doctor today at 3:00. I am pretty sure she has a yeast rash and her little butt looks terrible. I am highly thinking of selling all of my cloth diapers and putting her back in sposies. She has lready been in sposies for 2 1/2 days because of this rash. I don't know if cloth makes it worse or better. I am going to ask her doctor and hopefully he/she will have some insight on it. I am SO frustrated with this whole experience. If I put her in sposies at night she wakes up soaked in pee. She is just in diapers too long. But, what am I supposed to do when she sleeps 12 straight hours? I am not waking her up to change her diaper. She would go crazy.
Can you tell I'm stressed out a little bit?
Wish us luck!